Our Stores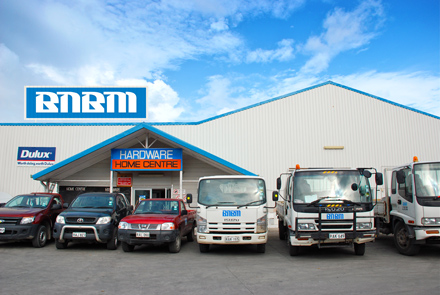 BNBM PNG Limited operates Retail & Wholesale Hardware and Home Centres in all its established stores in PNG however, integrated operations of Hardware & Home Centre branches are found in Kokopo、Kimbe & Madang branches and are conveniently located near main bus-stops and shopping centr
Port Moresby Hardware

POM Hardware is the first hardware store opened in June 1994 and traded as Pacific NBM Housing Pty Ltd. It commenced full operations in 1997 and currently has more than 100 national employees, working full time.

Port Moresby Home Centre

We ventured to our Home Centre operations in June 2002 and acquired the land for our new store and completed in January 2007.The building was opened by his Excellency, Hon. Sir Michael Somare and it marked a milestone for our company.

Lae Hardware

The second store opened and it was the first store in the Momase region in May 1999. Due to the high demand from the highlands region, a bigger store was anticipated and we acquired the land and the store was completed in 2000.
The volume of our stock increased enormously and in order to offer better services for our customers in Lae, Kokopo, Madang and Kimbe, our Lae Distribution centre was completed and started operating in March 2012.
Lae Home Centre

To meet the market demands, we purchased the property in Lae and extended our Home Centre and officially opened for business in February 2012.

Kokopo Hardware & Home Centre

We moved into East New Britain Province in March 2001 and operated from Tropicana's warehouse until we acquired a new property in February 2008. Construction of the new building and warehouse was completed in September 2010 and we opened an integrated Hardware and Home Centre branch.

Madang Hardware & Home Centre

The second store in Momase region was considered in December 2005 and construction begin. This project was completed the following year,and the store was opened in April 2006. then integrated to Hardware and Home Centre branch in 2014.
Kimbe Hardware & Home Centre

The ever increasing demand of business saw the expansion to Kimbe, West New Britain Province. Our Kimbe Hardware and Home Centre branch was established in September 2012 after construction begun in May 2010.