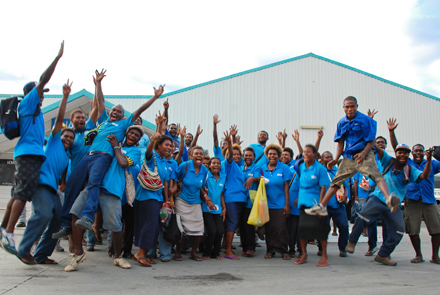 BNBM Jobs
At BNBM PNG Limited we are like family thus a heartbeat of our existence. Our teams of hardworking and dedicated men and women have maturely molded and expanded over the years of operation.
Our driving force for success is based on honesty, respect, cooperation and hard work as undoubtedly these are fundamental values a family is built on.
As a team member you will enjoy benefits that include:
Friendly and family orientated working conditions and environment
Competitive remuneration package
Recognition/incentive awards
Staff discounts
Career development and training
Paid leaves and other allowable leaves as per the Labour Laws
Opportunity to participate in special occasions.
We pave career pathways by identifying specific jobs and allow the suitable applicants to apply with an evenhanded approach and strive to recruit the best and train and develop the team member to be a part of our organization.

Our jobs entail Managerial and supervisory positions, Storemen/women, Cashiers, Attendants, Clerical Clerks, HR & Administration Officers, Drivers, Operators and Cleaners.

It is our dream to expand our operations and to build the best teams earning the right to be part of this exciting family and be the best service providers in PNG and the Pacific Region.